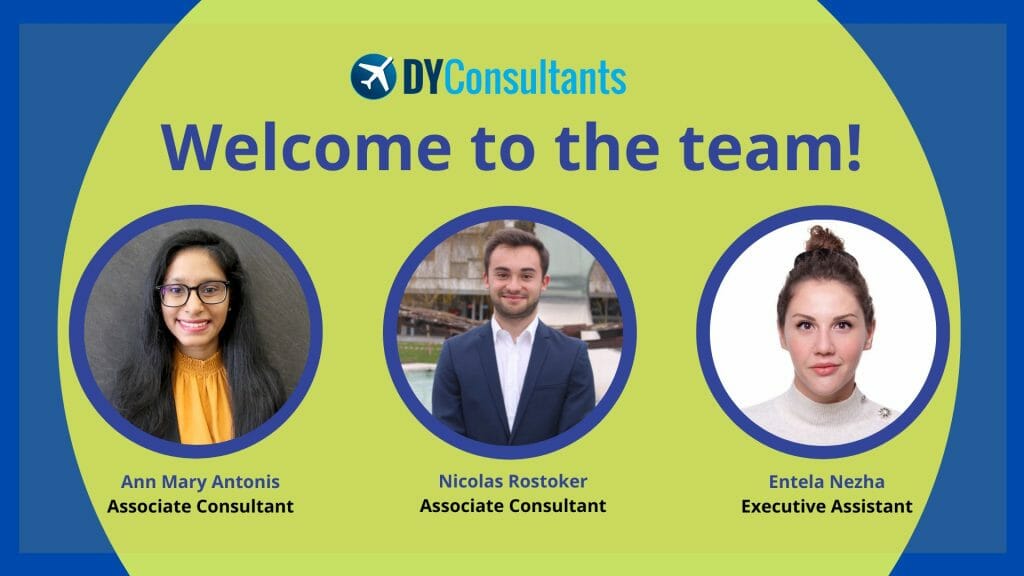 At DY Consultants, we are continuously growing and expanding our team. DY Consultants would like to introduce our new additions to the team! Please meet Ann, Nicolas and Entela!
Ann Mary Antonis | Associate Consultant, Aviation Planning
Ann is a Civil Engineering, graduate student who specializes in Transportation Infrastructure and Systems Engineering at Virginia Tech. She has worked on numerous research projects on Urban Air Mobility. Ann has a keen interest in UAM and airport planning. She enjoys listening to music and reading novels.
Nicolas Rostoker | Associate Consultant, Aviation Planning
Nicolas completed his Master of Science in Airport Development and Management at the Florida Institute of Technology. Nicolas worked for six months for EDEIS. EDEIS was created in December 2016 before the acquisition of SNC-Lavalin SAS and managed 19 Airports and 2 Railway Lines in France. At EDEIS, Nicolas implemented a Business Intelligence Tool – Power BI – connected to various databased. This tool allowed the headquarter to follow up on real-time dashboards depicting different KPIs. Nicolas also worked for six months for Air Caraibes, as a Flight Efficiency Data Engineer, implementing flight procedures to reduce the airline fuel consumption. At his spare time, Nicolas loves running, playing tennis, cooking, and exploring new cities.
Entela Nezha | Executive Assistant
Entela has a Bachelor of Science from University of Tirana, Faculty of Natural Sciences, Albania and a Master of Science, Environmental Biology from University of Tirana, Faculty of Natural Sciences, Albania. Entela has over seven years of experience in educational institutions. After three years as a researcher and environmental biologist, she started working as the Head of the library and archives at the Faculty of Medicine. Entela has coordinated and organized scientific research, produced in-person conferences, and oversaw large departments' operations. She takes pride in collaborating with others and finds comfort in organizing details. She created, executed new procedures, and oversaw all interdepartmental collaboration. Entela also enjoys traveling, swimming, biking, watching her favorite shows and reading a good book.