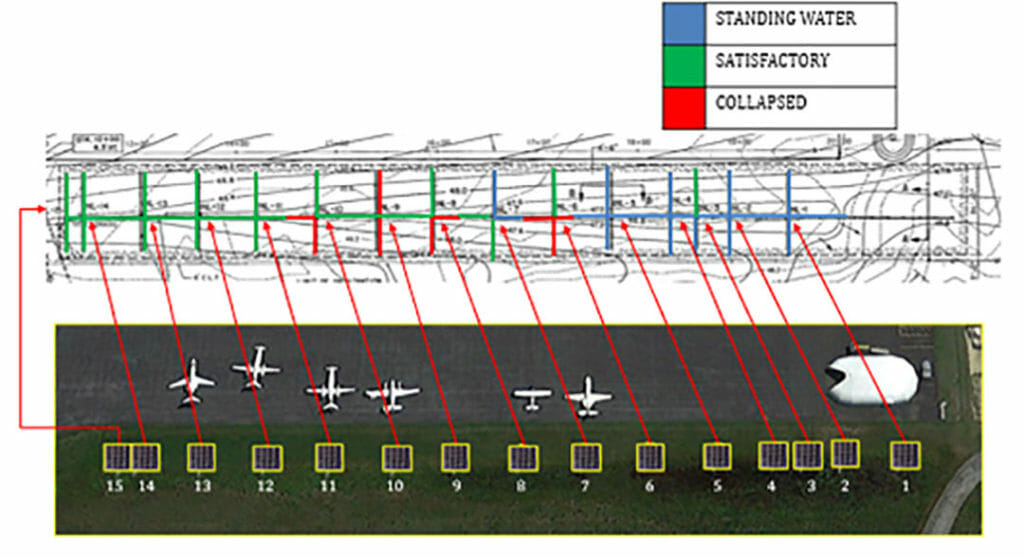 Atlantic City International Airpor (ACY) is a joint civil-military airport 10 miles (16 km) northwest of Atlantic City, New Jersey. The airport covers 5,000 acres (2,000 ha) at an elevation of 75 feet (23 m) above mean sea level. It has two runways: 4/22 is 6,144 by 150 feet (1,873 x 46 m) asphalt/concrete; 13/31 is 10,000 by 150 feet (3,048 x 46 m) asphalt.
A corporate hangar drainage system constructed in 1991, designed to accommodate the increase rate of stormwater runoff from the corporate hangar apron area has failed to operate as intended. The infiltration chamber has not adequately percolate stormwater runoff into the ground for 8 years. This resulted in standing water and severe surface pooling. DY Consultants has conducted a video inspection and record research to understand the underlying cause of the system failure and provide different alternative resolutions.
The challenging aspect of this project was the dewatering process, design review, and record research. The dewatering process took 3 days to pump out 4,860 ft³ of standing water before the video inspection can be conducted. During this time, DY reviewed the design for the infiltration chamber to determine if it had the capacity to support the stormwater runoff from the corporate hangar. Based on DY's calculation, the infiltration did have the capacity to support the stormwater runoff from the impervious surface. Therefore, DY conducted a record research to determine the cause for the infiltration system failure.
DY Consultants provided the following engineering services to South Jersey Transportation Authority: Design Review, Site Inspection, and Alternative Recommendations