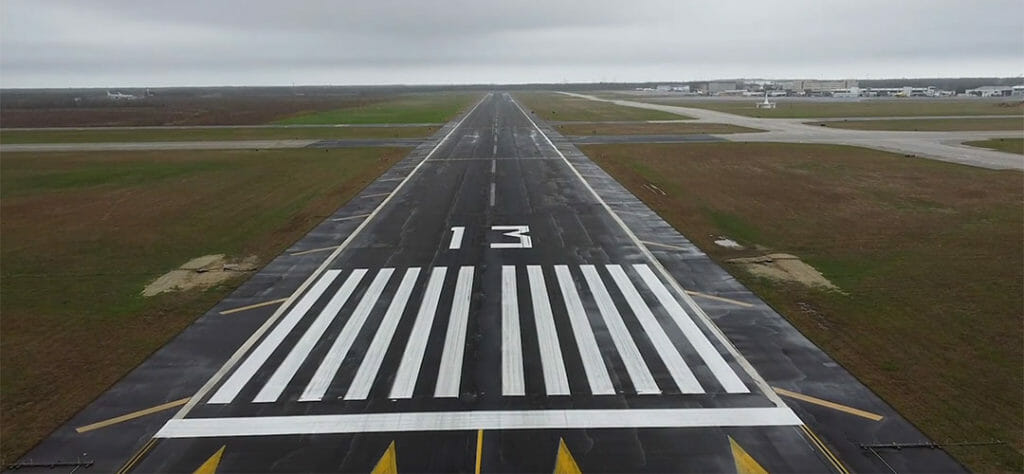 Atlantic City International Airport (ACY) is a joint civil-military airport 10 miles (16 km) northwest of Atlantic City, New Jersey. The airport is operated by the South Jersey Transportation Authority (SJTA) and the Port Authority of New York and New Jersey, which performs select management functions.
As the airport engineer for ACY, DY Consultants provided design and engineering services to rehabilitate Runway 13-31. Runway 13-31 is a primary runway at ACY and is 10,000 feet long by 150 feet wide, including 25 feet of paved shoulder on both sides, which features ILS approaches at each end, precision instrument pavement markings, and High-Intensity Runway Lighting (HIRL) and a Medium-Intensity Approach Lighting System with Runway alignment indicator lights (MALSR). The rehabilitation of this runway includes asphalt mill and overlay including crack repairs. In addition, it includes mill and overlay of a portion of connecting taxiways and intersecting runway 4-22 up to the runway holding position markings as well as adjustments to the existing airfield lighting systems within the work area. The project also includes improvements of the Air National Guard's aircraft arresting system at both ends of the runway 13-31.
This rehabilitation project ultimately will strengthen the runway 13-31 capability to support the bigger aircrafts (B747-8F) in the near future as well as a prolonged pavement life.
The operational aspect during the construction of this project is very challenging as the runway is required to be operational during each phase of four (4) separate phases. Phases 1 and 2 consist of rehabilitation at runway ends while having approximately 7,000 feet of runway available for aircraft operation. Phase 3 consists of the construction of mid-portion between Phases 1 and 2 while Phase 4 consists of the construction at the intersection of two runways. Phases 3 and 4 consist of night construction while making the runway available each morning for daytime operations.
DY Consultants provided the following engineering services for this project: Horizontal and Vertical Geometry Design, Structural and Geotechnical Pavement Design, Electrical engineering, Construction Safety and Phasing, and Maintenance and Protection of Traffic during the construction period.