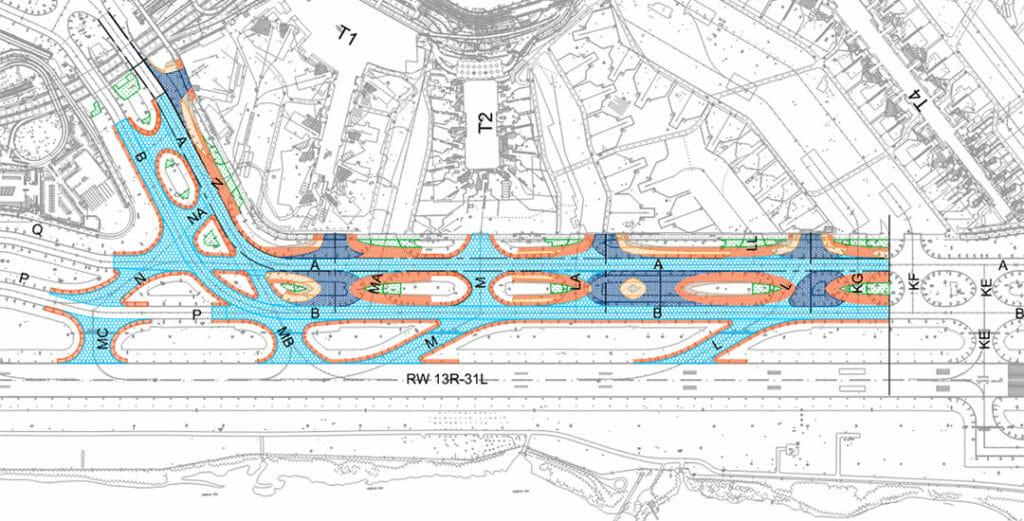 John F. Kennedy International Airport (JFK) is an international airport in Queens, New York City, and one of the primary airports serving New York City. The airport features six passenger terminals and four runways. More than ninety airlines operate from the airport, with nonstop or direct flights to destinations in all six inhabited continents.
DY Consultants is the Sub-Consultant for the detailed engineering design related to the construction staging and airfield pavement marking to support the rehabilitation of Taxiway A and B South including associated connecting taxiways as part of the JFK redevelopment program. Taxiways A and B are primary taxiways and therefore experience heavy usage, and the connecting and crossing taxiways are critical in providing a safe connection for aircraft movement from terminals to runways. This Taxiway A and B rehabilitation program includes a mill and overlay of Taxiway A and B pavements as well as a full-depth construction of a new taxiway throats system.
DY's role for this project was to provide the detailed engineering design related to the complex construction staging/phasing plans for the construction of rehabilitation of Taxiway A and B including several connecting taxiways. In addition, DY was coordinating and working simultaneously with the Prime Consultant (WSP), several other utility design consultants, the Port Authority of New York and New Jersey (PANYNJ), Airport Operation and FAA Air Traffic Control Tower (ATCT) to develop the challenging construction phasing while having several taxiways in operation with a concept of split taxiways with utmost safety and operational consideration to support the aircraft operations during the entire duration of the construction.
Moreover, DY developed a set of permanent airfield pavement marking plans with associated construction details for a Taxiway Design Group (TDG) VI as per FAA design standards. In addition, a temporary RVSR (Restricted Vehicle Service Road) Access Plans were developed for the vehicle service road (perimeter road). Ultimately, DY also prepared a quantity takeoff (QTO) for the airfield pavement marking to support the prime consultant in preparing the final bid package.