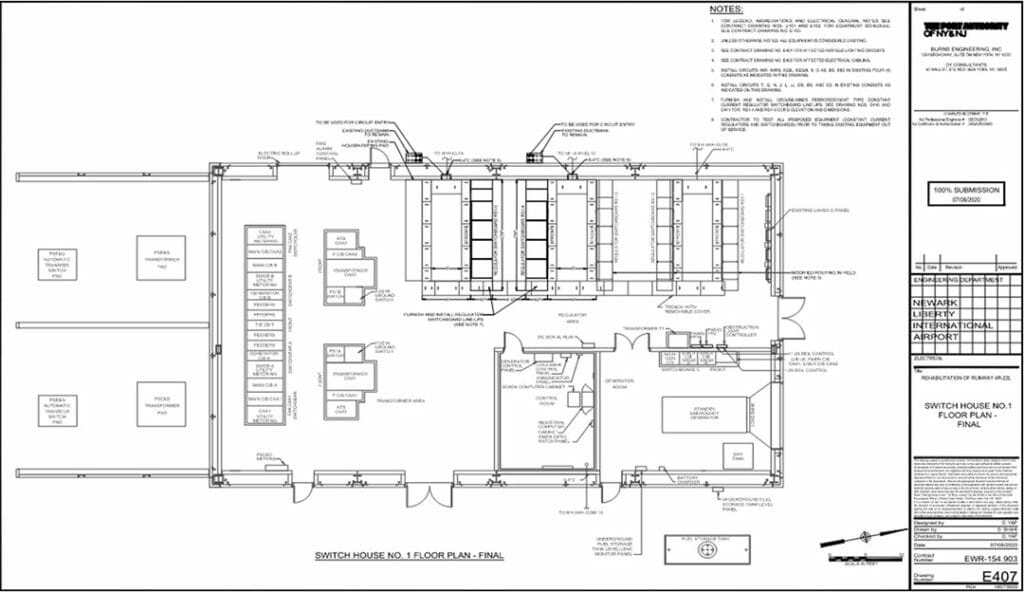 DY Consultants provided the design and engineering services for the upgrade of switch house electrical components to support the proposed rehabilitation of Runway 4R-22L and associated connector taxiways at Newark Liberty International Airport. The rehabilitation project included the replacement of the existing runway lighting system (runway centerline, edge, end, threshold, guard, and touchdown zone lights) with new LED lights. In addition, this project includes improvements of runway 4R and 22L approach lighting system and temporary removal and reinstallation to taxi guidance signs, distance remaining signs and taxiway centerline lights with base cans. Moreover, it also included the replacement of new homerun cables back to switch house for all affected circuits related to the project.
DY's role for this project was to provide the detailed electrical engineering design to identify the lightly loaded constant regulators (CCRs) and replace these with units more suitable sized for the lighting load. DY performed the electrical design load calculation for the affected lighting circuits by this rehabilitation project to determine the size of the proposed CCRs to support the lower wattage LED lamps. Sixteen (16) out of twenty (20) affected CCRs were proposed to be replaced with smaller size. In addition, DY performed the insulation resistance design calculations for the affected circuits.
Moreover, DY prepared a set of construction plans related to replacement of existing CCRs with new CCRs, raceway and low voltage power plan, grounding and bonding plan, cable trench plan including the equipment schedules and construction details. In addition, DY prepared a quantity takeoff (QTO) for the construction items to support the prime consultant in preparing the final bid package.