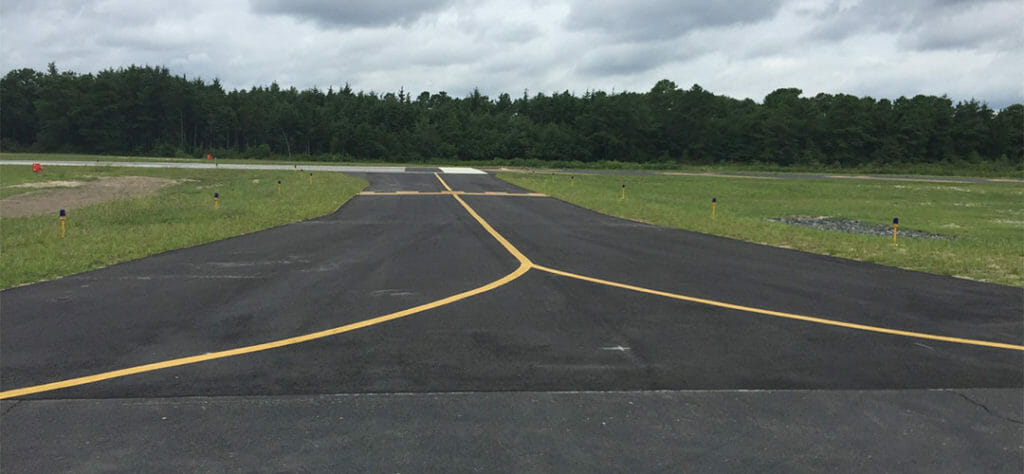 Lakewood Airport is a General Aviation Airport located in Lakewood, Ocean County New Jersey. The full length of pavement for Runway 6-24 (3450 feet) is not usable due to several different obstructions and encroachments on the RSAs at both runway ends. The runway's current configuration includes a relocated and displaced runway threshold. To ensure the safety of navigable airspace in the vicinity of Lakewood Airport, an obstruction study found that due to obstructions in the airport environs the current runway layout results in limited usable runway length.
Runway 24 has a relocated threshold 296 feet from the end of the full-strength pavement. This provides a standard runway safety area between the end of the runway (the relocated threshold) and the wetlands and the service road. In addition, tree obstructions have caused a 247-foot landing threshold displacement, (beyond the "relocated" threshold).
The design was for the relocation of the Runway 24 threshold and the installation of a connecting taxiway to the relocated threshold. The design efforts by DY will address runway and taxiway paving and lighting work, the establishment of a standard RSA, and the design of a new taxiway connector.
The objective was to provide final design documentation for the purposes of bidding, and to obtain the necessary permits and approvals for the construction, and to perform the duties of Construction management. In addition, an ALP Pen and Ink Change and the NEPA environmental review of the project was performed.