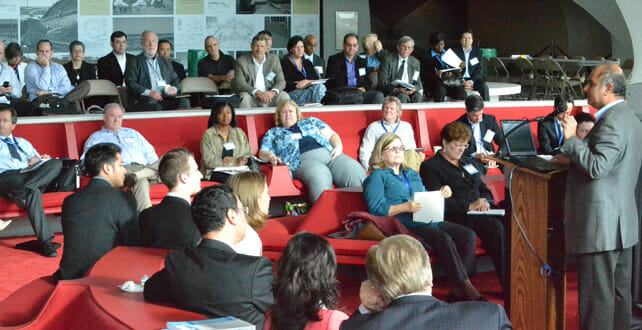 DY participated in the planning and facilitating of the Airport of the Future Workshop, hosted by the Port Authority of NY/NJ Aviation Department.  This event was held September 19th, 2012 at the renovated TWA Terminal Building at JFK, also known as the Saarinen Building, which was considered the Terminal of the Future at the time.  This workshop was developed with the goal of providing a key deliverable – "A Vision for the Airport of the Future."
The workshop began with a general session that included an insightful discussion by Kiran Merchant, the Director of the Port Authority Aviation Department and the "master mind" in putting the workshop together.  Kiran set the stage by providing a history and description of the Saarinen Terminal, including some of the "out of the box" ideas that were implemented.  Although an architectural landmark, the building is no longer effective due to the creator's inability to see effectively into the future.  He challenged this group, by establishing a goal to foresee into the future and to promote design changes that will accommodate for the future.
He was followed by Keynote speaker, Mitchell Moss, Jeff Pearse – Deputy General Manager of JFK, David Farrington and Lou Soloman – the facilitators of the workshop.  Jeff Pearse reminded the participants that the best airport experience is the forgettable one.  He felt that we, as an industry need to reduce the stress of air travel but also to try to bring back the excitement of the golden age of air travel.
The workshop was attended by a "hand picked" group of highly experienced and prominent individuals in the airport industry, whom are experts in terminal planning, design and construction.  Participants included airlines representatives, airport operators, airport managers, architectural and engineering consulting firms, concessionaires, regulatory agencies (CBP,TSA), and independent organizations (IATA. ACI).  Attendees spanned from around the globe from as far as Narita, Japan to Montreal, Canada to Dublin, Ireland.
This "dream room" of airport experts was broken out into small work groups to develop process and design changes that would support their vision of the future, related to:
Landside/Multi-Modal
Check-In Lobby
Security
Concourse
Domestic Arrivals
International Arrivals
These breakout sessions resulted in creative and innovative recommendations, which were presented and discussed with the entire group, capping off a great day in terminal planning.  DY was proud and honored to help put this workshop together and to be included as part of this elite group.