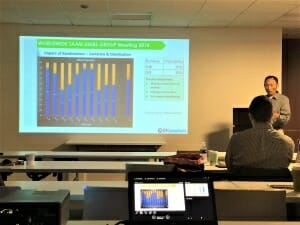 Dr. Jay Wang Presents at 2018 World-Wide TAAM User Group
CHICAGO, IL (October 22-26, 2018) – Dr. Jay Wang, Airfield and Airspace Projects Manager of DY Consultants, presented at 2018 World-Wide TAAM User Group (WWTUG) Meeting, hosted by Jeppesen, a software manufacturer and Ricondo Associates in Chicago.
TAAM (Total Airspace and Airport Modeller) is a sophisticated software that simulates models of airports or airspace to evaluate the impacts of future infrastructure changes. WWTUG serves as a valuable communication forum which brings together an active community of TAAM users to present product updates and identify problem areas, enhancements and focus areas to further the use of simulation within the aviation industry. Most of the presentations centered around past projects, new trends and techniques, and user-developed toolsets that are complementary to TAAM.
Dr. Wang has been the Chairperson of 2016 WWTUG in the UK and 2017 WWTUG in China. This year, Dr. Wang presented the challenges he faced while using TAAM and led an open discussion on how to overcome them. He was also a valuable asset in providing suggestions and insight for other users.
As the Airfield and Airspace Projects Manager of DY Consultants, Dr. Wang is highly respected and experienced with TAAM. In support of airport master planning efforts, he played key roles in numerous large-scale air traffic analysis projects, including Melbourne, Sydney, Beijing, Guangzhou, Shenzhen, Shanghai, and Dubai. The results from these studies provided vital decision support to the airport authorities and air traffic management entities in refining the airfield configuration, operation and phasing of long-term development and to identify opportunities to optimize the capacity of the integrated airfield and airspace system. As the leader of the Airport Modeling and Simulation Department of DY, Dr. Wang is currently using TAAM on multiple airfield simulation projects in United States.
We are proud to have Dr. Wang represent DY Consultants at this event.